Promises and Lies
is in the editing queue. I am excited about that as I can't wait to share the story :)
I'm hoping, over the time that the story is going through the editing process, to share things from the book. It is a contemporary story, so there was no "world building" as there was with my first book. But just like with
The King's Tale
the world of the characters was very much alive in my head.
So, here's my first share out. One of the secondary characters is named Gabriel. He's a soft, caring person. Although he made one colossal mistake in his past, he was able to fix the error and end up with what he really wanted, Mark.
Gabriel has a creche on display in his house all year round. He says it's not because he's religious, but because his parents sent him carved wooden animals from around the globe after they entered the Peace Corps. I have a memory of one Christmas when we visited the home of friends. They too had a creche that was populated with carved wooden animals. I was fascinated with it, it took up their entire hearth and looked like it took hours to set up. They did not leave theirs up year round, but I decided Gabriel would. I've always wished I had a camera with me that day we visited them, I'd have loved to have a photo memory of that mesmerizing display.
But, I don't, so instead I present you with the creche that *I* keep up 365 days a year in my own house. The reason for this display is that it is really a work of art, hand signed by the Peruvian artist that made it. My husband and I picked it up on a trip to Catalina Island many years ago. We keep it in our dining room, with little
Dia de los Muertos
figures in front of it.
These are the ways I build lives for my characters, based on my memories...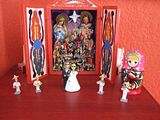 Gabriel has a creche.
I've heard from Dreamspinner Press that