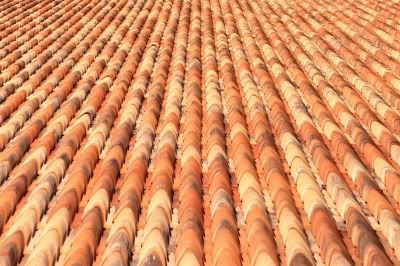 Ahh...summer. Typically a time where I can enjoy lots of time to write and write and write. Alas, this summer has been pretty barren of writing. Started with a trade show in early June that coincided with the finishing touches on
The King's Heart
. And then, a short vacation. After that we started a series of projects. First came the remodel of our kitchen, a stunning success! It's very beautiful now, but it took almost 3 weeks. During that time I was "camping out"...fixing meals in the bathroom, squeezing through the dining room past the fridge and unconnected stove, reading books. I tried to write, but got to a portion of the story where I kept second-guessing myself.
Now we've started on major project number two, a restoration of our tiled roof. This is less disconcerting as we are, for the most part, not inconvenienced beyond a lot of thumping on the roof. I got through my conundrum on the story, but now I just don't want to write this part, and skip ahead to the "good part"...ahh the woes of a writer.
In the mean time, we are rapidly approaching the three year anniversary of the release of my first novel,
The King's Tale
. I set up a giveaway at GoodReads, and while the prize will be
The King's Heart
I will also include a copy of
The King's Tale
, ed.2, when I mail out the prize. In the next few days I'll be posting more information. The giveaway will start on July 27, and run for 2 weeks.
Image from
http://www.freedigitalphotos.net/